This small Belgian train graveyard has been on my to-check-out list for a while already. I just never found it interesting enough to take the journey. That changed as soon as I learned that some of the trains were being moved away. Apparently the European Union was funding construction works nearby and the trains had to go. A route was planned quickly and I was on my way the following Sunday.
Conveniently, the dead trains were parked right behind the Belgo-German border which isn't that far away. Inconveniently, no active trains stopped anywhere close. A car was needed, a car was procured. Turns out that in this day and age, you can just rent them in major cities even for only a couple of hours at reasonable prices. The only catch: I got an Alfa.
I was worried more than once as the satnav sent us over what appeared to be more like tractor trails than what we would call a "road" in Germany but in the end we reached our destination and the car still looked "good". I'm putting that in quotes because it still was an Alfa.
Now, while I do have a bit of an inner rail nerd, I had no idea what I was looking at when I approached the trains. So I did what I normally do and photographed everything that at least looked interesting. The train that stood out most was a blue rail bus with an SNCF logo on the side. I would later research that this type of train was called X 97151 Autorail, and that only three units had ever been built. It was a diesel powered, single carriage train with a very simplistic and timeless design. It served only one line in the Bretagne, as evidenced by the stickers that were still placed above the doors.
A lot of random scrap was piled up in one place, mostly old bogies that looked like they were once intended to be replacement parts but had since been forgotten. Some of the trains had already been removed, but a long row of several Alstrom freight locomotives was still left behind. Some had their cockpits unlocked, others had their engine covers missing, allowing me to take closer looks at the parts and inner workings you normally don't even get to see in a museum.

I also stumbled upon one of the iconic old Belgian power locomotives. With their distinctice shape and blue-yellow color scheme, they have become a universally recocnized symbol of train related abandonments in Belgium. This baby featured a massive 2000 horse power diesel electric engine. The setting sun was shining through missing windows and ventilation grills into the engine room. Moving back and forth inside was difficult, turning around almost impossible. Setting up a camera for HDR shots required very creative leg placement - both human and tripod. The accumulation of pipes, valves, cylinders and gears crammed into the tight space combining with the sweet scent of heavy oil made it all fell like what I would imagine the inside of a submarine to be like.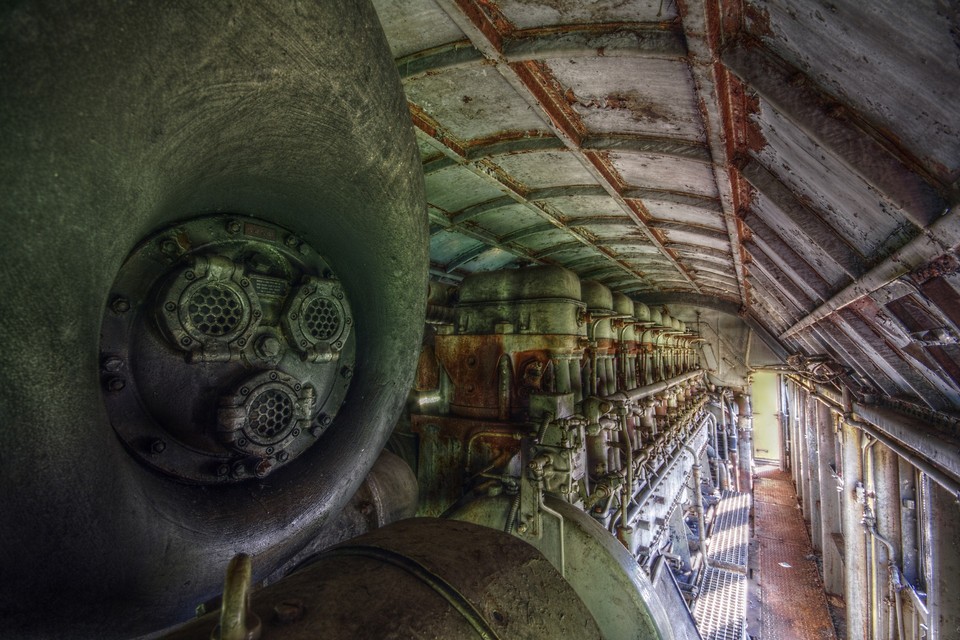 2000 Horse Powers. Count the Cylinders! HDR.


After I had finished taking pictures, I sat in the car again and tried to program a different return route into the satnav. An elderly man approached me and struck up a conversation. Although it didn't really show, he turned out to be no less than 60 years older than me and knew the place's history quite well.
Back in the days, passenger trains passed through regularly. Over time, that dropped to freight trains and eventually to museum trains. Not too long ago, the museum train operator's boss took all the money and disappeared. Some trains were sold, the rest abandoned. Now, parts of the tracks are being removed and turned into a bike trail while other parts are being re-activated for freight traffic.
We ended up talking for almost an hour about life, travels, trains, women, television and how we both disliked italian cars - among other things. It's about the places you go and the people you meet.
As usual, check out all the pictures in the Gallery:

A Belgian Train Graveyard