It was that time of the year again. The skies were grey, the temperatures low and it rained at least every weekend. It was the middle of July in a typical summer in Germany. But once you have successfully managed to get a group of 4 people to agree on a date and time for an Urbex trip, virtually nothing can get you to cancel that trip. Even though it had been raining cats and dogs since we left our respective beds that morning, we hit the road holping that the sky would clear up enough to allow some decent photos later in the day.
We waited out the current shower in our red vehicle, parked beside a quiet country road. Next to us, a green patch of grassland, some trees and the reason we came here: more parked, red vehicles. Not just any kind of red, but the precisely defined RAL 3020 a.k.a. "Verkehrsrot". Better known to most Germans as the color that locomotives have been painted in since the mid 90s. In Germany, everything is normed.
As soon as the amount of water falling from the heavens seemd to dwindle, we grabbed our gear and made our way to the train tracks. We expected maybe a handful of parked locomotives but found more than 20, all of which were completely abandoned with their doors wide open, inviting visitors like us.
Most interestingly, some of the engines were of the old DR Class 130 (per request, I'll just link to Wikipedia for the rail nerd facts). These are some really huge and strong locomotives, originally built by the Soviets and powered by one of their legendary and virtually indestructable Diesel engines. They were used by the Eastern German Railway Company and later, after that country imploded the successful reunification, by the German Rail Authority. After recently having been replaced by newer models, the old locomotives were now parked here to await being torn apart, fused-in and cast into new locomotives. Or maybe left whole and sold back to Russia at a profit.
Taking photos turned out to be even harder than expected. The light outside was barely enough for acceptable exposure times, the sky would come out heavily overexposed or everything else heavily underexposed and I had to constantly wipe raindrops of the lens. I was really happy I had a weather sealed camera and lenses. OK, I couldn't take usable pictures but at least I didn't have to keep the camera in the backpack to protect it from the water. Which is a real benefit, I guess.
Inside the locomotives, things got even worse. Not only was there less light, but there was hardly enough space to set up a tripod. I got it to work somehow by extending one tripod leg fully to the ground and pressing the remaining two at minimum length against some pipes at weird angles. I didn't dare to breathe during the 30 seconds the camera was exposing. Or during the 2 minutes it takes to get a 5 exposure bracket shot for HDR. Yes, I am exaggerating.
As usual, we could have spent a couple more hours climbing around inside the locomotives, inspecting all the countless details and endless labyrinths of rusty pipes and valves, but we figured it wasn't really worth the effort and decided to move on to the next location (coming soon).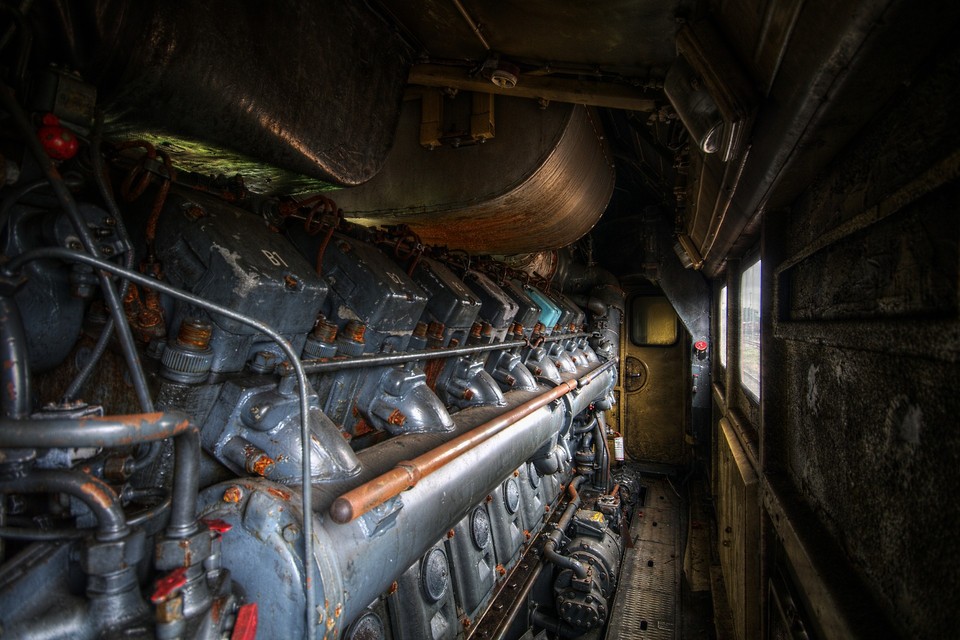 Made in the Soviet Union (HDR)


Just as we were walking back to our vehicle, we spotted some other guys on the premises. I quickly donned the organge hi-vis vest I had been carrying around in my backpack for a while and pretended to lead our group. We didn't find any trace of the others near the trains but spotted them hiding inside some bushes close to the road. Good times.
Check out all pictures in the gallery:

Germain Train Graveyard