With all these holidays here recently, I still managed to be among the unlucky few who couldn't use them to fabricate a long weekend. Fortunately, a long weekend came around on it's own which for me meant 3 days of exploring in Eastern Germany. But I'll probably write more about that in a separate post.
The first stop on the way to Thüringen was an abandoned train workshop near Germany's former inner border.
Somewhere between canola fileds and railway tracks (surprise) lay the remainders of a roundhouse, a water tower and whatever else belongs to a train workshop. Most of it was rusty, collapsed and completely grown over. Combined with the sunny weather and the blue sky, it provided lots of wonderful photo opportunities.
The thing that looked most promising for a little bit of adventure was the water tower. We crawled in, walked up and found a little walkway under and next to the main tank. Since i kind of like adrenaline, fear of heights is a really nice thing to have. And as soon as i realized that the rust I was trying to hold on to had itself already started to rust and that a lot of the concrete it was supposed to keep in place had already fallen down I got a fair amount of adrenaline. I hope I'll never get used to this. Or do I?
Coming out of the middle of the big tank was a ladder. It would lead the keen explorer even higher. I climbed up, took a look and climbed back down. Then i took my camera and climbed up again. In moments like this I always realize that there are certain human skills that I still have not yet developed. One of them is holding a telephone while typing into a keyboard, and the other, in this case more important one is climbing with a camera and taking pictures while standing on a ladder. I still somehow managed to get a picture up there.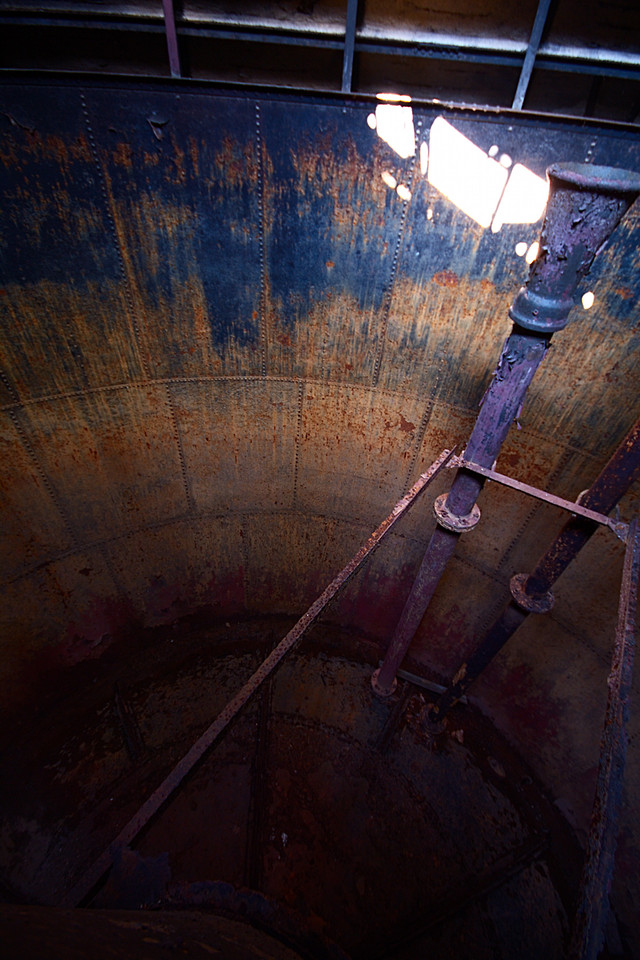 Find the rest of the pictures in my Gallery:

Train Workshop